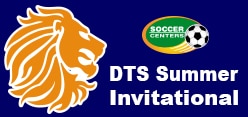 The DTS Summer Invitational is one the highest ranked (Pre)-Fall Season warm up tournaments in New Jersey.
The DTS Summer Invitational offers a competitive Pre-Season Tournament with strong teams from the Tri-State Area. We offer small & full sided games for 2010 (U8) – 2004 (U14) Boys and Girls teams.
Tournament Dates 2018:
Date: Saturday 6/23/18 & Sunday 6/24/18 (BOYS BRACKETS)
Date: Saturday 6/30/18 & Sunday 7/1/18 (GIRLS BRACKETS)
DTS Summer Invitational Offers:


– 3 guaranteed games + possible final (2x 30 minutes per game)
– Games are held rain or shine
– All games are played on high quality grass fields
– Optional cancellation insurance available
– Competitive brackets within age group (travel/elite level)
– Referee fees included in the tournament fee
– Champions receive trophies
Tournament Pricing:
7v7 Small Sided (2010, 2009, 2008 Teams): $425 per team
9v9 Small Sided (2007 & 2006 Teams): $450 per team
11v11 Full Sided (2005 & 2004 Teams): $475 per team
Team Registration:

Check – in Procedures:
You are allowed to check in on the field, 30 minutes prior to your first game. For check-in, please bring:
– Your team roster; US Club or State roster (bring 2 copies, one for you and one for us to keep)
– Valid player passes matching your roster
– Medical release form for all players
Guest players:
We allow up to 5 guest players. The guest players must be added to your roster, must have a valid player pass and a US Club Player Loan form. For a US Club Player Loan form, please click here.
Field locations:
All fields are held on high quality grass fields at the Howe Sports Complex in Somerset, NJ.
Tournament Rules & Refund/Insurance Policy:
CLICK HERE to review the DTS Summer Invitational Tournament Rules.
DTS is offering optional cancellation insurance for teams in this years tournament. Please CLICK HERE to review the policy.
Pre-Season Experience and GotSoccer Points:
The DTS Summer Invitational can be used as a preparation for the Spring season. The players are able to get a lot of touches on the ball and work on their conditioning. The coach has the opportunity to work on the chemistry in the team and put the final touches on the team's tactics. All games are played on high quality turf fields.
GotSoccer appreciates the ambitious growth of the DTS Summer Invitational in becoming one of the leading Pre-Fall Season Tournaments in the Tri-State area.
Contact:
For questions regarding the DTS Summer Invitational, contact the Tournament Director at RoaldJornick@SoccerCenters.com or call 732-748-4625 ext 19.
*Click the button below to to be notified by email about upcoming DTS programs & special offers.

For media inquiries please contact Shelley@SoccerCenters.com